Buy Samsung 152cm (60) Ultra HD (4K) Smart LED TV  (60KU6000, 3 x HDMI, 2 x USB) for Rs. 119,999 from Flipkart LED TV Offer
This exclusive online offer is offered by Flipkart
Steps to Buy Samsung 152cm (60) Ultra HD (4K) Smart LED TV:
Add to cart
Proceed to checkout
Make final payment
Key features of Samsung 152cm (60) Ultra HD (4K) Smart LED TV:
20 W Speaker Output
200 Hz Refresh Rate
Tired of wasting your weekends looking for an entertaining TV channel to watch? Samsung brings to you this sleek 152 cm (60) Ultra HD smart TV. Other than enhancing regular images so you view the finest content, it also comes with tons of entertainment features through which you can browse the web, watch the latest TV shows online, and even stream media from your smartphone on its large screen.
HDR Premium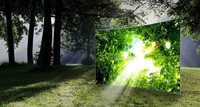 The HDR Premium brings HDR content to life by enhancing previously hidden details in the brightest parts of the TV screen. You can now enjoy every aspect of the movie or video game you're playing.
PurColor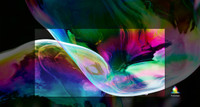 The 8 million pixels in its UHD display, four times the number of pixels a Full HD display has, adjust colors and enhances them so they are better detailed. Conventional UHD TVs have about 27 color adjustment points. PurColor increases this by more than seven times which dramatically refines the colors and shades of the content you're watching.
4K UHD Resolution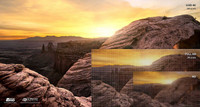 With 3840 x 2160 pixels working to bring you true-to-life color and brightness, watching animated movies is immersive and captivating on this 4K UHD Samsung TV. It has four times the resolution of a Full HD TV.
Smart Hub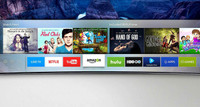 You now have quick and single access point to a plethora of entertainment like Live TV, Over The Top (OTT), and games on the TV's Smart Hub. You can access them all as soon as you turn on the TV.
UHD Picture Engine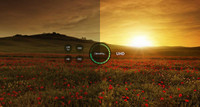 So what if your favorite movie doesn't have the best resolution? Samsung's UHD Picture Engine takes lower resolution content and enhances them using an innovative four-step process. Thanks to this feature, you can enjoy any content in premium life-like quality.
UHD Dimming Technology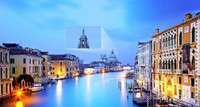 This technology optimizes the contrast, color, and sharpness of images and gives them life-like quality. This process is more intricate than the existing Micro Dimming technology and is designed to offer you a TV experience like no other.
Ultra Clean View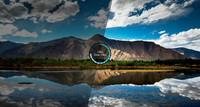 Enjoying video games rely heavily on quality visuals and clear movement. Samsung's Ultra Clean View analyzes content using an advanced algorithm. It then filters them and reduces noise so you have content that's worth UHD standards.
Smart View App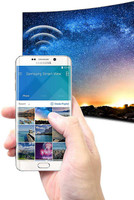 Have funny video clips on your phone that you want to share with the family? Sit them down and make a night of it. Connect your smartphone or personal computer to the TV using Samsung's Smart View app. It offers easy connectivity with most of your personal devices.
Performance
Powered by a powerful quad-core processor, this smart TV instantly reacts to your commands and supports smooth running of your apps, It also lets you enjoy multitasking with the Multi-Link Screen.
Tizen OS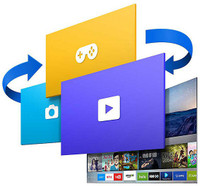 This feature enhances the smart TV's performance with a quicker boot and faster access to all your apps. It also supports popular local VOD apps.
Flicker-free Videos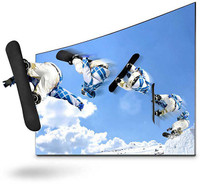 Catch live telecasts of sporting events like car racing in their full glory. With Motion Rate 120 and the TV's high refresh rate and back-light technologies, your content is flicker-free and seamless.
Wireless Connection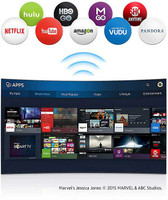 Log into social media or watch YouTube without a hassle. The TV has built-in Wireless LAN which lets you easily connect your smart TV to the Internet.
ConnectShare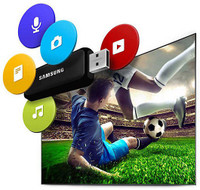 There's no such thing as too much entertainment. Make the most of your day off from work. Watch a variety of content by plugging in your USB or HDD into the TV.
HDMI Ports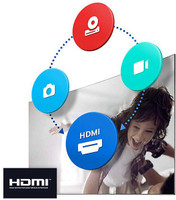 Connect HDMI straight to your TV and view content from multiple devices on a large screen. Home entertainment never felt this good.