Buy CloudWalker Cloud TV 109cm (43) Ultra HD (4K) Smart LED TV Â (CLOUD TV 43SU, 3 x HDMI, 2 x USB) for Rs. 32,999 from Flipkart Offer
This exclusive online offer is offered by Flipkart
Steps to Buy CloudWalker Cloud TV 109cm (43) Ultra HD (4K) Smart LED TV Â (CLOUD TV 43SU, 3 x HDMI, 2 x USB):
Add to cart
Proceed to checkout
Make final payment
Key features of CloudWalker Cloud TV 109cm (43) Ultra HD (4K) Smart LED TV Â (CLOUD TV 43SU, 3 x HDMI, 2 x USB):
10 W x 2 Speaker Output
60 Hz Refresh Rate
Android Kitkat 4.4 | Cortex Dual Core Processor
1 GB RAM | 8GB Storage
Smart TV with Live TV & Smart Search for Digital Content
Downloads & Plays any Android App
CShare App – Connect Mobile to TV (Play, Mirror, Control)
Super Remote (Air Mouse + Remote)
Whether it's for those weekend movie marathons or for your daily dose of entertainment, with the CloudWalker 4K TV, you can enhance your TV-viewing experience. The Cloud Smart TV is intelligent enough to make your everyday entertainment a delightful one.
Entertainment Unlimited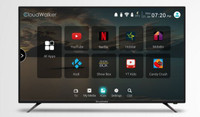 With the Cloud TV at home, you will never get bored as it comes with a world of apps. Download your favourite apps from the app store and stay entertained.
Online Videos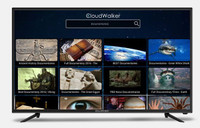 Trending viral videos or interesting documentaries – no matter what you favourite is, with the Cloud 45SU TV, you can search for your favourite online videos and watch them on its 109 cm screen.
Xluminous Display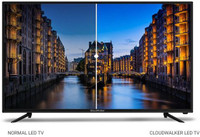 Thanks to this TVs DCTI/DLTI technology, you can now watch movies and videos in a clarity that will leave you spellbound. This CloudWalker TV facilitates seamless scaling for smoother, sharper, full motion video display and offers stunning visuals.
Cinematic Experience
Who doesn't love watching movies in a theatre? Those stunning visuals and fantastic audio are some things that make us all love the entire theatre experience. Get a theatre-like audio experience at home with this CloudWalker TV.
4K UHD
Watch your favourite movie characters come to life. The CloudWalker 109 cm 4K UHD TV, with 3840 x 2160 pixels, delivers sharp and rich image quality to enhance your TV-viewing experience.
CShare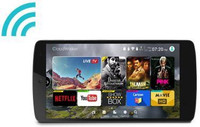 Have interesting videos, pictures and songs on your smartphone? Use the CShare app and cast your favourite content that's on your Android or iOS smartphone on this TV and vice versa. You can also use your smartphone as a remote control, air mouse and a wireless keyboard.
Performance
Powered by a Cortex A53 Dual core processor and 1 GB RAM, this 4K UHD Smart TV ensures seamless performance.
Super Remote
This smart TV comes with a smart remote as well. With an inbuilt Air mouse along with the IR function, this remote allows you to navigate all the functions of the TV.
Content Discovery Engine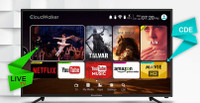 Stream your favourite content, anytime you want, with the CloudWalker TV. The Content Discovery Engine delivers rich & entertaining content and allows you to stream movies, music, documentaries and other apps on this TV.
Multiple Ports
If ever you get bored of watching what's broadcasted on the TV, then simply connect your DTH/Cable, gaming console, external storage devices, Blu-ray/DVD players, PC or laptop and experience a new level of entertainment as this TV comes with 3 HDMI ports, 2 USB ports, and 1 Ethernet port. This TV also ensures clear, sharp and vibrant pictures and videos from your USB/PC input, thanks to its dynamic noise reduction.
(Visited 1 times, 1 visits today)