Buy Citron EK003 Electric Kettle  (1 L) for Rs. 424 from Flipkart Offer
This exclusive online offer is offered by Flipkart
Steps to Buy Citron EK003 Electric Kettle:
Add to cart
Proceed to checkout
Make final payment
Key features of Citron EK003 Electric Kettle:
Consumes: 2000 W
Auto Switch Off
Capacity: 1 L
The Citron cordless electric kettle is a must have kitchen appliance which is easy to use and clean.
Design

The stainless steel body of the kettle lends it a sturdy, durable and resilient build.
Stainless steel heating element

The concealed stainless steel heating element helps to prevent mineral build-up within the kettle. Also, it helps to increase the flow of heat, thus reducing the heating time.
Removable filter

The Citron electric kettle features a removable filter which makes it easy to clean the kettle and maintain hygiene.
Safety

With the automatic shut-off feature, this Citron electric kettle keeps you safe from overheating complications.
Dry boil protection

The dry boil protection feature stops the heating process in cases of insufficient water or no water.
Power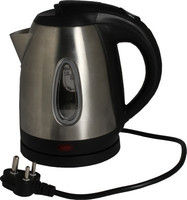 For optimal functioning, the Citron electric kettle consumes only 2000 watts of power.